Find the difference between you and a professional player
The regular player:

✔️ He creates the poker account
✔️ He plays and rakes
✔️ The room collects a fee from his earnings
❌ He doesn't receive any rakeback and he only enjoys the general benefits as any player

The professional player:

✔️ He creates the poker account
✔️ He plays and rakes
✔️ The room collects a fee from his earnings
✔️ He enjoys exclusive rakeback deals with the room to recover the paid fees
In fact, professional players have special deals to get back those fees that every player is required to pay in the room. If you also want to become a professional player overnight, we will act as intermediaries to refund you the money that actually belongs to you.
You're one step away from getting rich as a professional player with your cashback ;)
Instructions to have the same advantages as a professional poker player
If you are a regular player but you want the same deals as a professional poker player, follow the next steps:
SIGN UP IN HABWIN
Choose from a wide list of poker rooms and create your account with us through the tracked links that we provide in our site.


LINK YOUR ACCOUNT
Login in HabWin and inside your profile user, go to My Rooms, insert your nick and login in the room. In 24/48h we will validate your account.


PLAY AND RAKE
From that moment, play and rake. We will refund the commission you paid for playing in the room, in HabCoins. It is illegal to refund that amount in cash, so we have created our HabWin points. The more you play, the more HabCoins you win.


REDEEM YOUR HABCOINS
Buy what you want in our store with your HabCoins. And if you don't find what you are looking for, get in touch with us and we will get it for you. Remember, whatever you want!
Thanks to HabWin you will play poker as a professional player, to whom the fees are refund from the room. Since as a regular player you can't reach a rakeback deal with the room, HabWin gives you that deal and refund your fees in free products. Be part of HabWin and don't stop winning!

How to choose the rooms that fits me better?
We have a large list of rooms and sometimes it's difficult to choose. In HabWin we have a proposal: to facilitate you this work by designing a landing page for each room where we explain in detail the benefits of each room, but if you don't want to read all these advantages one by one, we invite you to make a general comparison for at least make an initial filter and choose from a smaller number of rooms.
Steps to choose your room
First, choose if you want to play poker, bet or enjoy your favourite casino games and go to Rooms:



You can use our filter by:



The network to which they belong: Partygaming, Winning, iPoker,...
The device from which you can play: iOs or Android for mobile and tablets and Mac or Windows for computers.



You will see the list of rooms, all with the same pattern to define your benefits:



Network: the network to which the room belongs.
VIP System: expressed in %, it represents the maximum VIP level that is guaranteed in that room.
Welcome Bonus: we specify how much the Welcome Bonus could be in that room for your first deposit
HabCoins for every euro you play: we specify the maximum level of HabCoins that we give you in that room for every euro you play. These HabCoins can be redeemed for products of our online store.
Software: devices with which the room software is available.
See promotions: if you click on See promotions you will find not only the promotions of the room itself, but also our exclusive promotions for HabWinners (organized by HabWin exclusively for its users)
This is how we offer the list of rooms in HabWin, to facilitate your work of making a comparison and you can choose with easily: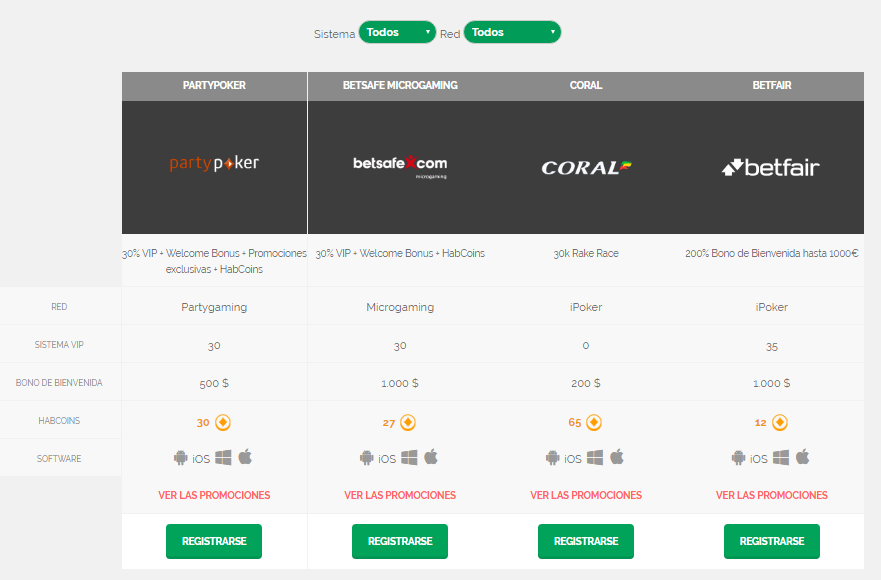 In our section 'Rooms' you can compare the extra benefits
you receive in each room iwhen you create your account in HabWin
For example, if you are a user interested in poker you would go to the rooms list of our section HabPoker and you would find among many others, Partypoker. As we see in the picture, Partypoker is a room who belongs to the Partygaming network, which offers a 30% VIP System, which offers a Welcome Bonus up to $500 and where you can get up to 30 HabCoins for each euro you bet. Partypoker is a room where you can play from your iOS or Android device or with a PC or Mac. If you still have doubts, you can also inform you about all the ongoing promotions. When you choose your room and you definitely decide to create your account, just click on Sign in where you will find the information expanded to detail. Now you only have to click on Play and you will start to enjoy all these extras.
We invite you to make a comparison between all the rooms we offer to choose the one that benefits you the most. Choose your room now!