Play the Million Dollar Jackpot in Americas Cardroom, Black Chip Poker and Ya Poker
The Million Dollar Jackpot is a fast-paced, 3-max player, Hyper-Turbo Sit&Go tournaments with a starting stack of 500 chips and 3 minute levels. It's the fast way to win in Americas Cardroom, Black Chip Poker or Ya Poker!! A randomly drawn will decide the prizepool which will be between 2 and 2,500 times the buy-in. The buy-in amounts to take part are $2, $10, $25, or $40, that means you can win up to $100,000 within minutes!
A supersized Jackpot Poker
For a limited time, instead of the top prize pool being capped at $100,000, Million Dollar Jackpots come with the chance to hit a $1 million prize pool. Million Dollar Jackpots are available for buy-ins of $0.69, $6.90, and $69. A million bucks for $0.69? That's one amazing position to be in.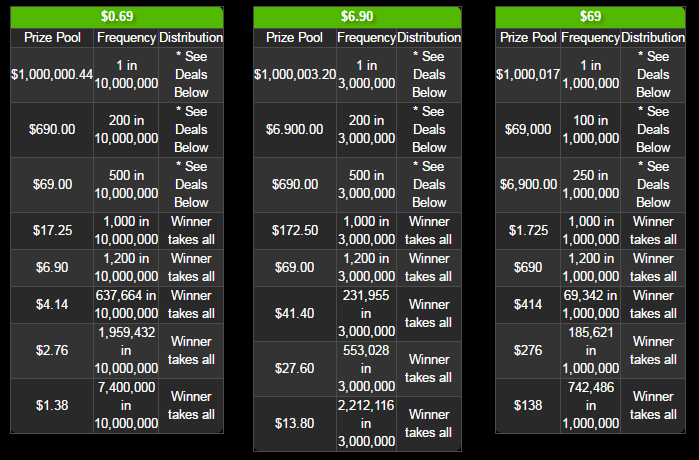 This is your chance to play one of the richest hyper-turbo Sit&Go's in the history of online poker.
How do I join the Million Dollar Jackpots?
Choose the buy-in amount and select how may tournaments you want to play.


When 3 players are registrered in the same table, the random draw takes place.




The prizepool between 2 and 2,500 times the buy-in is decided and shown to all players.


The first hand will be dealt and the Jackpot Poker prize will be up for grabs!
Use the Maximizer
The Maximizer is the new table searching feature. It allows you to concentrate on playing as it automatically adds you to waiting lists and opens up games to you.


Click on the Maximizer tab in the Jackpots lobby
Select your maximum buy-in
Select your favorite buy-in (Maximizer will always reserve one table at your preferred stake if you mark the check box)
Select the maximum amount of tables you want to play
Turn the Maximizer on by sliding the red button to the "on" position
It will then continuously search for new games and open up tables as they become free, up to the number of tables you selected.
Prizes chart
See below for the prizes and frequency for each Jackpot Poker tourney you can play:

Overview